AC Floby applying the 3D print technology by investing a first printer in order to shorten lead times and reduce costs in several areas.
Companies like Ford, Caterpillar and Boeing are included in the nearly 70 % of the world's largest manufacturing companies using 3D printer technology for product development and manufacturing.
Ford Motor Company are printing over 200,000 prototypes a year. They use the technology to test parts for brake drums, gearboxes and exhaust systems.
-Our first 3D printer is finally here since a couple months back. The idea of having our own 3D printers is to shorten lead times, reduce costs and environmental impact when printing prototypes.
We shorten lead times by becoming independent of suppliers across Europe and at the same time, we reduce prototype costs by producing it on our own, says Lars Andersson, Manufacturing engineering Manager at AC Floby.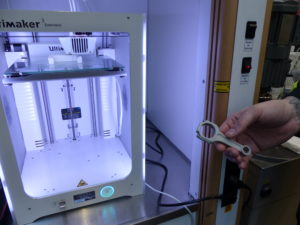 Printed connecting rod prototype in miniature.
Andreas Hjortmark, Process Developer at AC Floby who is responsible for the production of prototypes tells  – A lot of knowledge and production techniques that previously have been held by suppliers are now preserved and developed within our house, which is important for our future challenges here at AC Floby.
"The more we learn, the greater are the possibilities for develop different forms and materials"
-Now that we are in the start-up phase, we have begun collaborating with different companies and networks working with similar projects, the pace of development is high and we must be open minded about sharing experiences and technologies with each other, says Magnus Götlind, Process Developer.
-Furthermore, we are taking some important points from an environmental point of view, all thanks to the printer that produces prototypes in PLA (Polylaktid). PLA is a naturally degradable material produced from the renewable resources corn and cane sugar. Another point is that we now can abolish the earlier prototype freights from different places in Europe, says Andreas Hjortmark.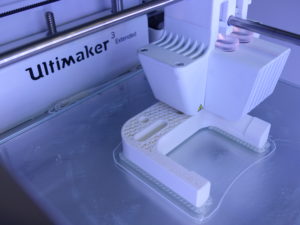 The print technique that is used is called FDM and Ultimaker 3 Extended is the name of the machine. The printer makes it possible to manufacture more complex prototype geometries as well as components for casting and models for other production at the factory. The thin plastic wire that creates a detail is called filament.
-Lars Andersson says that AC Floby have now submitted prototypes to two research projects, one in Lund and one in Trollhättan where they will look more closely at additive manufacturing. Additive manufacturing is about adding materials instead of processing materials.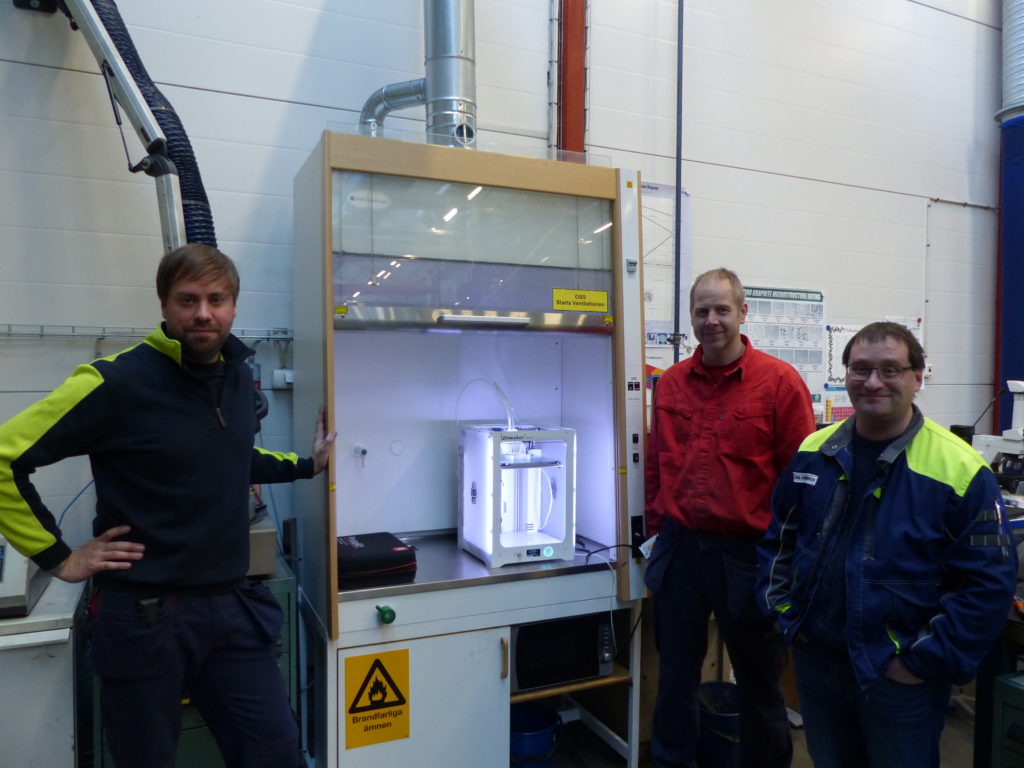 From the left Andreas Hjortmark, Magnus Götlind and Lars Andersson.
Today, Andreas Hjortmark and Magnus Götlind working with the development and manufacturing of prototypes where components are included. In conclusion, Lars Andersson says that if this progressing at a desired pace, then there will be future opportunities to invest in additional machines that have the ability to print larger metal parts.
Reference: www.ultimaker.com