The EuroBrake 2019 exhibition took place in Dresden, Germany on 21–23 May. During the event, Swedish company Automotive Components Floby re-launched its SiCA LIGHT product – an aluminium brake disc with silicon carbide particle reinforcement.
"The brake disc replaces conventional cast iron discs, while also releasing fewer harmful particles and lasting longer over time. Our unique manufacturing process makes the product very attractive on the market," says Adam Thomas, Development Engineer at AC Floby.
During EuroBrake, one of the world's leading trade conferences and exhibitions for brake experts primarily in cars and commercial vehicles, AC Floby relaunched its SiCA LIGHT brake disc. It replaces previous cast iron discs and contributes to more sustainable driving. Above all the SiCA LIGHT disc reduces particle emissions considerably, but it also has a longer life span over time than conventional alternatives.
"We can see this disc suiting customers who primarily manufacture electric or hybrid cars. If you have an electric car with standard friction brakes, you tend not to use the brakes so much, which causes problems with corrosion for instance. Conventional brakes are also extremely over-dimensioned for normal users, which means the vehicles are carrying around a lot of unnecessary weight," Thomas explains.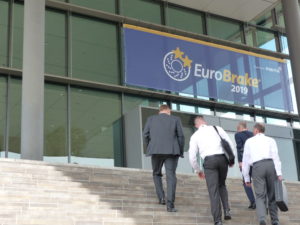 A changing industry
Plans for the SiCA LIGHT disc were originally sketched in the 1990s, and were progressively developed up to 2013 when the product was first launched on the market. But the market wasn't ready. Now that more and more people have realised the effect of climate change on our planet, new innovations are being seen from a new perspective. Magnus Johansson has been with AC Floby for 30 years, and is delighted that the SiCA LIGHT is finally receiving attention. He believes in a bright future for the brake discs, explaining that the automotive industry is facing a raft of major changes.
"As combustion engines are replaced moving forward, whether wholly or partly, by electricity and batteries, several other components will also need to be replaced. The market is looking for innovative, lightweight, sustainable components that follow current developments. Particle emissions from brakes have also come more into the limelight recently. Our product offers a long life span and low environmental impact, which makes it ideal for the market right now," says Magnus Johansson, Director Business Development at AC Floby.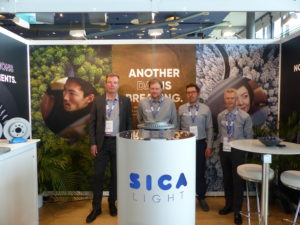 Extensive interest from the industry
According to both Thomas and Johansson, sustainability and environmental impact were two distinct trends during the fair in Germany. AC Floby presented its SiCA LIGHT at its stand, and also held a technical seminar on the new aluminium disc.
"There was tremendous interest in SiCA LIGHT. It was very clear that the industry is looking for something other than what conventional products can offer. We met a lot of exciting potential customers and business partners, which we will now be following up on," says Thomas.
Since AC Floby manufactures components for the automotive industry, the company now needs a car maker to help take the product forward. After that, at least two years will be required for customisation and verification. Since forecasts suggest that 50 per cent of the new cars sold in 2025 will be electric or hybrids, Magnus Johansson believes that the SiCA LIGHT disc has huge market potential.
"We have already come a long way in the process and have a unique production method that many find exciting. My vision is that demand starts exceeding what we can manufacture in Floby, but time will tell," he concludes.
Learn more: SICA LIGHT